UPLBFI as Partner in Development
February 26, 2012

UPLBFI as Partner in Development
(Six Years of Successful Projects for the University and  the Country)
Over the last six years (2005-2011), UPLBFI collaborated with 169 different national and international public and private entities in undertaking 536 different projects amounting to a total of Php 1.069 billion. These projects covered a wide variety of concerns addressing major developmental and disciplinal orientation. Figure 7 compares the number and budgetary outlay of projects according to these different concerns. Many of these undertakings involved more than one concern and needed the application of different disciplines. In such cases, these were listed in the developmental concern or disciplinal orientation that is most closely represented by the implementing academic unit.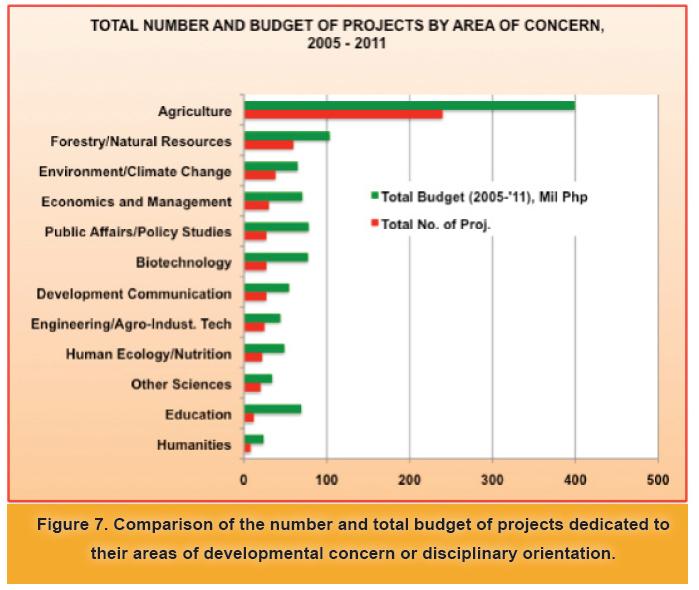 Agriculture
Agriculture and food continues to be the most predominant concern among projects contracted for implementation with UPLBFI. In the last six years, 240 projects for a total budget of Php 399.3 million were undertaken mainly through the different units of the College of Agriculture. These comprise almost half of the total number and a little more than one-third of the total budget of all the projects administered by UPLBFI during the period. These projects were mostlyfunded by the Department of Agriculture through its attached agencies particularly the Bureau of Agricultural Research. Of course, private national and multinational companies also contributed funds to support projects related to agriculture such as evaluation and field-testing of new products and processes for controlling pests and diseases, prolonging shelf-life of fruits and vegetables and so on. International organizations such as the Food and Agriculture Organization of the United Nations, USAID, ADB, the World Bank and the European Union, among others, have provided significant financial support to projects in this concern.
Forestry and Natural Resources
Forestry and natural resources figures as the next most significant area of concern of projects administered UPLBFI. During the period, 60 projects amounting to Php 103.5 million were dedicated to reforestation forest conservation, resource conservation and utilization, and so on. The Department of Environment and Natural Resources, in particular, together with the Philippine National Oil Corporation and other public and private entities provided funds particularly for. The FAO, GTZ of Germany, are among the international organizations that also provided funds for the support of these projects. FirstGen – a foundation of a local energy company – provided substantial amount of to support a project specifically for the conservation of Mt. Makiling.
Environment and Climate
During the period, 38 projects for a total of Php 64.8 million pesos were dedicated to environment and climate. International agencies and institutions such as the World Bank, FAO, American and European research universities, as well as local agencies contributed to this effort. Local government units are also increasingly becoming interested in control of pollution and adaptation to the impact of climate change. The province of Albay, for example, engaged the services of UPLBFI to formulate and promote the integration of climate change adaptation into the curricula of its pre-tertiary schools.
Economics and Management
A total of 30 different projects amounting to Php 70.8 million in the area of economics and management were also administered by UPLBFI mainly through the College of Economics and Management. The projects mainly dealt with marketing of agricultural produce, economic impact of climate change, feasibility studies, economic impact of technology adoption, and so on. Public and private sectors including the Department of Agriculture, Department of Agrarian Reform, Department of Science and Technology, Local Government Units, Philippine National Oil Corporation, and the World Bank, among others, played important role in providing funds for these projects.
Public Affairs/Policy Studies
Public affairs/Policy studies are projects that generally cut across several disciplinary concerns such as agriculture, economics and the environment, among others. These projects were mainly based in the College of Public Affairs. Results of these studies serve as basis for making decisions on important issues that need to be resolved by policymaking bodies and executives in both public and private sectors. In the last six years 27 projects for a total budget of Php 78.2 million were contracted with various government agencies and international funding agencies that focused on this concern.The sources of funds included, among others, the Department of Agrarian Reform, the Department of Agriculture, the World Bank, the International Bank for Reconstruction and Development, Plan International and the Asian Institute of Technology.
Biotechnology
Public and private agencies and organizations are increasingly interested in the economic viability of developing new products using biologically mediated processes of producing specialty oils like virgin coconut oil, bio-fertilizers, pesticides and probiotics. In the last six years, UPLBFI entered into contracts with various public and private entities in undertaking 27 projects for a total budget of Php 77.4 million. Funds for these projects were provided mainly by the DA, and DOST, and other private organizations like the Philippine Sugar Millers Association, Inc., Nanosys International Inc., LAKPUE Drug, Inc. and APT VET LINK Inc. and others.
Development Communication
In Development Communication, a total of 27 projects for a total of Php 54.4 million were administered by UPLBFI involving various studies and activities on. They included capacity building for effective communication of development, enhancing rural communication services, development of communication strategies for environmental advocacy, and others. National and international agencies and organization including the Department of Health, Population Commission, DENR, WHO, FAO were among those that provided financial support for these projects.
Engineering and Agro-industrial Technology
In Engineering and agro-industrial technology, 25 projects with a budget of Php 44.2 million were undertaken mostly involving studies on feasibility studies and piloting of systems of production of biofuels out of as well as design and fabrication of machineries and equipment for processing agricultural products. The Department of Agriculture together with LGUs provided funds for their implementation.
Human Ecology and Nutrition
A total of 22 projects amounting to Php 48.8 million were administered by UPLBFI through the College of Human Ecology. They consisted mainly of capacity building and training activities, recipe trials, and other activities on food and nutrition. The Nutrition Council of the Philippines, FAO, Japan International Cooperation Agencies were among the major funding sources for the projects.
Other Applied Sciences
A total of 20 projects amounting to Php 34.3 million were also administered by UPLBFI through the various units of the College of Arts and Sciences concerning information technology, biochemical studies on the use of indigenous products as food and cosmetics, apiculture, fish culture, and others. The Department of Agriculture, DOST and IRRI are among the major sources of funds for these projects.
Education/ Training
Only 12 projects for a total budget of Php 69.7 million on were undertaken with various UPLB units. It consisted of grants for graduate education non-degree training as part of the manpower development for agriculture and fisheries research, international training courses, among others. The Bureau of Agricultural Research of DA, FAO, UNDP, as well as other national agencies and international organizations provided for the funds for these projects. Recently, two short-term training programs to improve the capacity of the pre-tertiary education administrators and of the Ministry of Education of the Government of Bangladesh were undertaken by UPLBFI with funds provided by the Asian Development Bank.
Humanities
Projects on language training and cultural exchange were also undertaken through 12 projects for a total budget of Php 23.9 million. The major sources of funds for these projects are some of the Korean universities that sent their students to learn the English language and Filipino culture. The Philippine National Commission on Culture and the Arts also provided funds to promote the use of Pilipino among students and the general public.
Article appeared on the UPLBFI Six-Year Term Report 2005-2011